Meet Elicia
Elicia Calhoun is a World Champion competitor, a sought-after International Trainer, Lecturer, Professional Agility Coach and Instructor, and Author.
A trailblazer in the dynamic sport of dog agility, boasting three decades of expertise in training, coaching, and competing. Elicia is not just a seasoned professional; she is a beacon of passion and proficiency in the field. A 3-time World Champion, 6-time National Champion, and multiple Regional Champion, she has left a specific indelible mark on the international stage, representing the United States in over 25 International Teams and securing Gold Medals at World Championships for two USA teams.
With a distinguished career spanning over 32 years, Elicia has been the driving force behind numerous success stories, seamlessly intertwining the excitement of agility with transformative personal development practices.  Whether competing in the agility ring or coaching an agility team, Elicia's joy for the wins, both in and outside the agility ring, is contagious. Witnessing agility teams reach their full potential is her ultimate reward, and she thrives on bringing out the best in each unique partnership.
Beyond the competitive arena, Elicia serves as a guiding force of inspiration in teaching and coaching. With an acute eye for detail, she extracts the best from every team she guides. Elicia faces challenges with infectious enthusiasm, turning even the toughest obstacles into opportunities for growth. Her reputation for expertise in mindset, resilience, and problem-solving makes her coaching style truly exceptional.
Elicia's impact extends globally through engaging seminars, revitalizing retreats, and cutting-edge online coaching programs. Her unwavering commitment is evident – to propel handlers to their Peak Performances, foster unmatched connections with their dogs, and help them surpass goals they hadn't even dared to imagine.
With her world-class online programs, Elicia's coaching offers a transformative agility development experience. Her unique approach not only helps handlers achieve their full potential but also nurtures a profound connection with their dogs. For those seeking guidance and inspiration in agility, Elicia Calhoun is the ideal coach and mentor. Her wealth of experience and contagious passion for life and sport will elevate your agility team to new heights. Be sure to join her community and discover the transformative power of dog agility for yourself!
The Peak Performance Team
Passionate about the relationship we share with our dogs, this team is helping me deliver World Class Programs for you and your dog!
Elicia Calhoun
Founder and CEO of Elicia Calhoun Peak Performance
A graduate of Cornell University with a B.S. in mechanical engineering, Elicia Calhoun has been helping people achieve agility success, become the best version of themselves and live their best lives with the help of their dogs for the past 35+ years. She combines the sport of dog agility with personal development practices to provide clients with impactful coaching that changes lives.
Agility has not only enhanced her personal relationship with her own dogs, but it has also supported her through life's challenges, including a horrific car accident and a POTS diagnosis. Agility has helped her develop the champion mindset with which she lives life. She is a 3-Time World Champion, 6-Time National Champion, coach, instructor and author.
Elicia, her husband, Bill, and four Border Collies enjoy living life to the fullest in Phoenix, Arizona. They love traveling, mountain biking, and making memories with friends and family.
Bill Molloy
Managing Director
Bill earned a Bachelor's, a Masters in Business Administration, and a Masters in Hospital Administration degrees from Cornell University.  He has founded, managed, and sold businesses in the medical and healthcare industries for the past 50 years having earned a sterling reputation for being one of Arizona's experts at planning and developing healthcare projects.  His extraordinary expertise, unquestioned integrity and financial success for clients were the cornerstones of the company's growth, prosperity and stability, and these same attributes have carried over to the operations of Peak Performance.  His role is executive management as well as various aspects of new business development.
Some of Bill's accomplishments include him being a member of Cornell's 1971 NCAA championship lacrosse team and completing more than 20 marathons, including Boston and New York.  
Competing with his border collies in the sport of dog agility, winning a National Championship and competing in national championship events as well as being a member of the USA Team earning a silver medal in Brazil in 2019. When not competing, he and his dogs volunteer for local hospice as therapy dogs.
Bill loves anything outdoors. Some of his favorite moments include climbing the Grand Tetons and Mt. Rainier, cross-country skiing around Mt. McKinley in winter, and rafting the Grand Canyon.  He now lives for mountain biking during the hottest part of the day during the summer heat in Phoenix, Arizona, as well as traveling with his wife.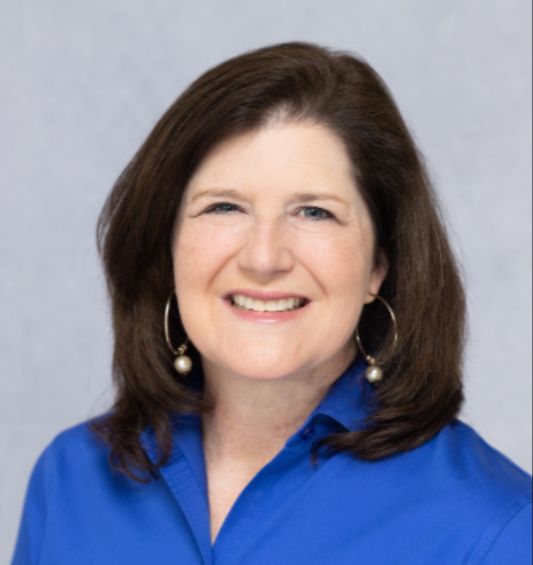 Leigh Ann Falconer
Business Manager Extraordinaire
A graduate of Texas A&M University with a Masters in Public Administration, Leigh Ann recently reconnected with her college friend, Elicia, after almost 30 years apart. Since then they have discovered a mutual love of all things dog and have enjoyed traveling the world together putting on seminars and retreats. After several years in investments, Leigh Ann worked for approximately 15 years as a dog trainer and behavioral consultant (CPDT-KA, CBCC-KA) before retiring in 2022. She now keeps her creative friend in line with spreadsheets, business goals and financial projections. She lives in Thomasville, Georgia, with her husband, Trey, and 7 rescued dogs. They love traveling and all things beach-related. 
Pauline Goss
Creative Consultant
Pauline graduated from the State University of New York at Buffalo with a BSN in Registered Nursing and a Master's Degree in Child Health Care and is credentialed by the American Nurse Credentialing Center.  Pauline served as a Physician's Nurse Practitioner in the Emergency Department with the Banner Health System throughout Phoenix before realizing her true passion was working with Pediatrics and keeping children "out of the Emergency Department".  Pauline subsequently shifted into the private practice realm by joining a large pediatric practice, where she can make the biggest impact on children by teaching parents how to keep their children healthy and safe.
Pauline is a Peak Performance creative idea generator.  She keeps things fun and playful and provides unique insight into our teaching programs.
Her hobbies include painting, playing guitar, scuba diving, and occasional salmon fishing, as well as training her two Australian Shepherds for dog agility competitions.
Join Our Mailing List
Get tips and updates on what's happening at Peak Performance!