Peak Performance Agility Retreat
Life is too short not to do what you love!
Jump out of your comfort zone and immerse yourself in a fun, rejuvenating, and first-of-its-kind agility retreat.
NEXT RETREAT:
August 4, 5 & 6 2023
Loves Park, Ilinois
BECOME A RESILIENT AGILITY TEAM
TRAIN - CONNECT - RETREAT
Registration IS NOW OPEN!
... BUT only 2 spots remain!
WITH THE PROPER TRAINING...
YOU CAN TURN YOUR CURRENT TEAM INTO
A RESILIENT AGILITY TEAM!
You are a mirror for your dog. . .
We must become
relaxed, focused, and well-rounded

Handlers if that is how we want our dogs to be.

____Elicia Calhoun
We
explore different modalities

for self-care that include

yoga, strength training, journaling, meditation, art, and massage

as part of our retreat experience.
Experiment with various
techniques to ease stress

and

encourage creativity

.
INTRODUCING
THE PEAK PERFORMANCE AGILITY RETREAT
This LIVE In-Person event will help you develop increased confidence in your abilities and apply strategies for improved team performance.
YOUR DOG IS WAITING FOR YOU
There is an eager and loving partner looking for clarity and consistency from you.
With this retreat experience, you'll learn how to:
See the hidden dynamics at play in agility (that no one ever told you about)

Identify and actually use your team's superpowers

Work together as a connected team under pressure
After just 3 days, you'll have everything you need to see, plan and train your agility team to reach the next level.
DAY 1
THE HANDLER
Handler strategies are an art form of their own. We begin by establishing a strong foundation for the handler to feel good about. Day 1 focuses on the 'Handler' and includes:
A Morning Mindset Session,

An Afternoon Application Session (with the dog), to integrate the "ah-ha's" from the morning
A Fun and Interactive Evening Activity to balance out your brain after a full day of thinking
By the end of the day, you'll see agility from a new perspective.
DAY 2
ITS DOG DAY!
Connect with your dog in new and creative ways to better understand their skillset and how to use them. This day of 'Dog-Focused' FUN includes:
A Morning Strategy Session

An Afternoon Deep Dive Handling Session

A Restorative Evening Session
At the day's end, you'll be ready to start creating the vision for your team.
DAY 3
TEAM INTEGRATION
So you and your dog have all the tools! Now what? Learn how to handle each obstacle from start to finish together - as a team - with fun new challenges.
'Team' day includes:
A Morning Strategy Session

An Afternoon of High-Energy Team-oriented Games

A Final Strategy Session to Tie everything together
After this final day, you'll be ready to step to the line as a truly connected team.
PRE & POST EVENT TRAINING
GROUP COACHING
Turn your retreat experience into an impactful 10x learning opportunity.
Peak Performance Agility Retreat provides an innovative and unique program format with LIVE group coaching and direct access to Elicia.
We help you to maximize your team's results by addressing some of your personal chokeholds before the In-Person training begins.
We also provide follow-up coaching after the completion of the retreat to ensure that you have a clear path to continue your progress.
The LIVE small group coaching includes:
2 Pre-Event Calls

2 Assignments

1 Post-Event Call
Congratulations, you've now turned the dream of having a consistent and CONNECTED team into a reality!
LIMITED TIME BONUS
GET 50% OFF
AGILITY COURSE MASTERY PROGRAM
Every agility course is different. Just like every dog and handler team is unique.
Get small group coaching support from someone who knows what it's like to start with a pet and become part of a World Champion agility team.
Taking AGILITY COURSE MASTERY you will:
Learn how to see the basic elements of agility course design

Practice the proven system to break down each course, see the challenges and handling options

Identify the RIGHT questions to ask when making your handling strategy decisions

Create consistent routines for your walkthrough that work for every course

Free yourself from relying upon other people to tell you how to handle a course for your dog
You'll leave this program with a renewed sense of confidence and a clear vision of how you're going to master every agility course - every time.
On average, students who meet with a coach individually achieve their desired results 2x faster than those who don't. This bonus is yours with the registration to the Peak Performance Retreat.
HEY, I'M ELICIA!
I am a skilled and experienced Peak Performance Coach offering World Class Programs for both the dog and the handler in the sport of dog agility.
Every dog and handler team are mirrors to each other. Some of us just need a little more help bringing that awareness to life. Once you discover that part of yourself through the loving support of your dog, you are free to be unapologetically yourself, and your team's connection will shine through!
You are in for
an unparalleled experience

at Elicia's retreat!
Unlike other agility seminars, Elicia and her team take a
holistic view of the agility team

and competition in general.
____ Leigh Ann Falconer, CPDT-KA, CBCC-KA
Elicia has the
ability to help each person work through any personal demons

that get in the way;
and
provides strategies for improved performance.
____ Edie Moore, North Carolina
A proven world agility champion, international coach, and trainer;
Elicia also has a special ability to see the whole team, human and dog,
and help each team discover their hidden "superpowers."
I came away with
increased confidence in my abilities
and a renewed appreciation of
Elicia's 'secret' peak performance techniques.
____ Edie Moore & Penny, North Carolina
Having survived a traumatic car accident and a continuing battle with P.O.T.S. disease,
Elicia
can help competitors overcome any obstacles

to continue

to excel at the sport they love
and continue to have fun with their dogs for many years to come.
Registration OPENS APRIL 1ST!
... and that's NO JOKE!
This fun and immersive agility experience will change the way you work with your dog and the results you get in agility.
FREQUENTLY ASKED QUESTIONS
.
How do I know if the Retreat is right for me?
How many people will be in Retreat group?
How much working time will I get?
How do the group coaching sessions work?
What results can I expect to get?
Do you have any incentives if I refer a friend?
Don't Miss Out!
Work with a World Class Coach who will impact both your agility results and bring the JOY back to running with your dog!
The
impactful online coaching
alone
that
3-time World Champion Elicia Calhoun offers
cannot compare to this

HYBRID

experience!
This is truly a groundbreaking program for
much-needed balance

in the sport.
The focus is on the handler and refining their teamwork
Building resilience in the agility team.
This training program is NOT for everyone.
Step out of YOUR comfort zone and try new things
Experience the results - both in and out of the agility ring!
Innovative Seminar Format
Be a part of the 'first-of-its-kind'
HYBRID Agility Retreat!
Establish a working relationship with a World Class Coach BEFORE the hands-on training begins
LIVE coaching calls and pre-seminar assignments.
Identify your gap before working in person.
Start training the skills that will allow for faster results during the in-person training.
Set yourself up for success and continued progress towards your goals with a LIVE post-retreat coaching call.
Sign Me up!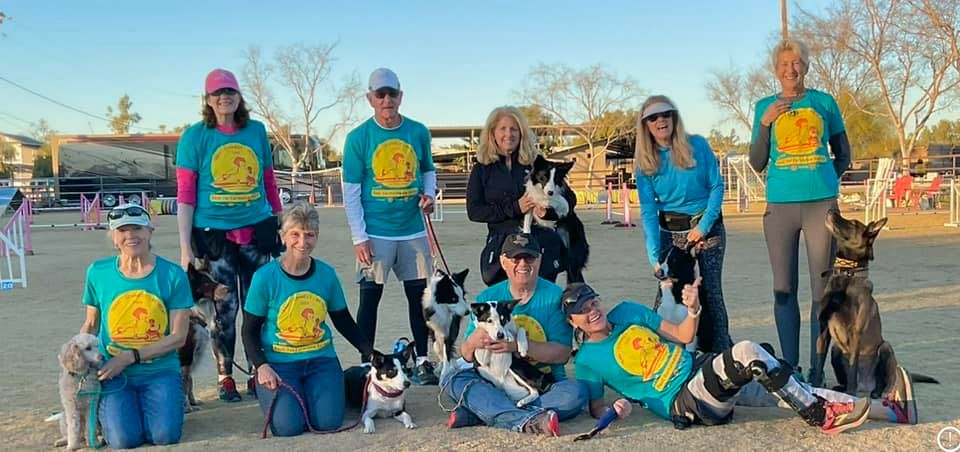 Topics to Include:
Mastering your Mental Game
Performing Under Pressure
Winning Your Walkthrough
Refining your Teamwork
And more. . .
Register early and give your input on what specific topics you'd like to cover during the retreat!
Tentative Schedule:
Thursday Afternoon:
Welcome 'Yappy' Hour & Check-in
Friday-Sunday:
Morning Movement
AM Working Session
LUNCH
PM Working Session
Evening Activity
World Class Instruction
Get coaching from a 3x World Champion who has over 35 years of experience and has been a strong influence in the sport of agility.
Elicia is highly sought-after around the world for her motivational and relationship-based teaching style.
And, Elicia is known for delivering immediate results while keeping FUN in the training!
Make the most

of the skills

that you

have RIGHT NOW

!
Create dramatic change with lasting results for years to come!
Invest in your training

for your future dogs yet to come!
Improved Teamwork
Develop a stronger CONNECTION with your dog.
Elicia's teaching style challenges you and your dog to work together and push through your comfort zone.
Deepen your understanding of how to work with your dog by seeing agility through their eyes.